Essex Men who died in Afghanistan & Iraq 2001 to 2014
Men from Essex have continued to serve their country as well as their predecessors in the 44th and 56th Foot and the Essex Regiment.
Those below have made the ultimate sacrifice on behalf of their country and we honour their memory.
Some belonged to the 1st Royal Anglian (Essex) Company while others came from Essex but served in other units.
Staff Sergeant Simon Cullingworth
Died 23 March 2003 in Iraq aged 36 years
Simon came from Essex and was a member of 33 Engineer Regiment
Private John Thrumble
Died 23 August 2007 aged 21 years
John joined the 1st Battalion in April 2004 and in 2007 was a machine gubber for 7 Platoon, B Company during a tour of Helmand Province. Privates McClure, Foster and Thrumble were all killed during a friendly fire incident when air support was requested.
John came from Maylandsea where he has been remembered with a garden area and a street named after him.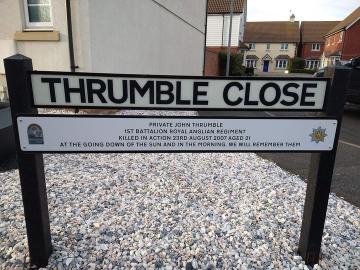 photo thanks to Paul Webb
Private Robert Foster
Died 23 August 2007 aged 19 years
Robert came from Harlow and was a member of 1st Royal Anglian Regiment
Corporal Paul Long
Died 24 June 2003 in Iraq aged 24 years
Paul came from Colchester and was a member of the Royal Military Police
Lance Corporal Kirk Redpath
Died 9 August 2007 In Iraq aged 22 years
Kirk came from Romford and was a member of 1st Battalion Irish Guards
Private Tony Rawson
Died 11 August 2007 in Afghanistan aged 27 years
Tony lived in Dagenham and was a member of the 1st Royal Anglian C (Essex) Company
Captain David Hicks
Died 11 August 2007 in Afghanistan aged 26 years
David was a member of 1st Royal Anglian C ( Essex) Company
Lance Corporal Nicky Mason
Died 13 September 2008 in Afghanistan Born 20 December 1981
Nicky was born in Aveley and was a member of 2nd Battalion Parachute Regiment
Marine Georgie Sparks
Died 27 November 2008 in Afghanistan aged 19 years
Georgie came from Epping and was a member of 42 Royal Marine Commando
Lieutenant Aaron Lewis
Died 15 December 2008 in Afghanistan Born 4 December 1982
Aaron was born in Essex and was a member of 79 Commando of Royal Artillery
Corporal Loren Owen Christopher Marlton-Thomas
Died 15 November 2009 in Afghanistan aged 28 years
Loren was from Wimbish and was a member of 33 Engineer Regiment
Lance Corporal Adam Drane
Died 8 December 2009 in Afghanistan Born 24 July 1986
Adam was a member of 1st Royal Anglian C ( Essex) Company
Rifleman Robert 'Robbie' Hayes
Died 3 January 2010 in Afghanistan Born 9 May 1990
Robbie was a rifleman with 1st Royal Anglian C ( Essex) Company
Rifleman Martin Kingett
Died 25 February 2010 in Afghanistan aged 19 years
Martin was born at Dagenham and was a member of 4th Battalion The Rifles
Lance Corporal Scott Hardy
Died 16 March 2010 In Afghanistan aged 26 years
Scott came from Chelmsford and was a member of the 1st Royal Anglian Regiment but at the time of his death was attached to the Household Cavalry
Sergeant Major Ian Fisher
Died 5 November 2013 in Afghanistan Born 6 October 1971
Ian was born at Barking and served with the 3rd Battalion Mercian Regiment