Major Robert Forbes , MC & bar , DSO & bar
Robert Forbes was born at Arbroath in 1899 to local farmer David Forbes and his wife Jane.
David died and Robert and his mother moved to Colville Cottage in Arbroath.
He did well at school and trained to be a teacher at Dundee Training College and then teaching at Kepties School, Arbroath.
He was secretary and an Officer with the 1st Arbroath Boys Brigade in which be began a lifelong interest.
When war was declared he volunteered and became a Private with the Tay Defence Staff, quickly promoted to Sergeant and then in early 1915 receiving a commission as Second Lieutenant with the 5th Black Watch with whom he fought with distinction.
Forbes in 1915 pictured in Dundee Courier
In June 1916 he was awarded the Military Cross for "taking a munitions convey to an advanced position along a shell swept road and having discharged his mission he returned with his men without any casualties".
In November 1915 he was injured for the first time and after convalescence in the UK joined the 10th Essex Battalion.
In March 1918 he was wounded for the second time and was treated at a war hospital at Bangour near Edinburgh. Forbes was in the middle of a close fight where there were a shower of bullets. He was lucky to survive as a bullet shot at close range entered the right side of his groin and went out through his body without hitting vital organs while another bullet struck his revolver ammunition pouch and a third his gas respirator both of his slowed the bullet and saved him from death.
For this he was awarded a bar to his Military Cross for "Conspicuous gallantry and devotion to duty in carrying out orders under severe machine gun fire, thereby being of great service at a critical time".
In August 1918 he was wounded for the third time this time by gunshot in his back. Fortunately the wound was not as serious as the others, not requiring treatment in the UK, so after a spell in a hospital in France he was back to the front line.
For this action he was awarded the DSO.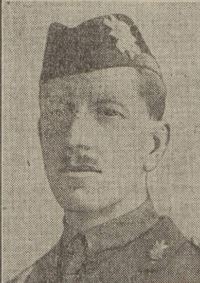 Forbes in 1918 when the DSO was awarded - Picture from Dundee Courier
After the armistice Forbes was given a wider responsibility to co-ordinate the educational program delivered to the troops still in uniform to help their assimilations back into civilian life.
In June 1919 as an Acting Lt Colonel he was presented with a bar to his DSO at Buckingham Palace by the King who engaged in a lengthy conversation with Forbes ending with warm wishes for a successful career.
His future was in education and in 1919 he was appointed head teacher at Inverarity School which was followed in 1921 by the appointment as Government Inspector of schools for the Glasgow District.
His stay in Inverarity seems to have led to romance as in 1924 he married Miss Isobel C Syme at Inverarity Church.
In 1949 he left education and returned to his family farming roots by taking over Balglassie Farm, Forfar.
Forbes saw public duty as an important factor in his life being elected as a Councillor, President of the Scottish Young farmers and members of advisory panels like the Industrial Injuries Advisory Council.
Major Forbes died at Balglassie Farm in 1963 aged 74 after and eventful life that could have ended in 1918 had his luck not have held with the positioning of three bullets.