Second Lt Gilbert Waterhouse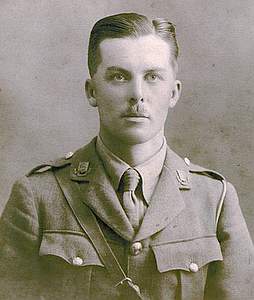 Gilbert Waterhouse was born on 22 January 1883 at Chatham, Kent to John and Louisa. John was a shipping agent which ensured that the family were comfortably placed.
When Gilbert was still young the family moved to Leyton , Essex which enabled Gilbert to attend the nearby Bancrofts School and thence to London University.
After University Gilbert qualified as an architect and remained at home with his parents.
At the outbreak of war he enlisted as a Private with the 18th battalion of the Royal Fusiliers but during the training his ability obviously shone as he applied and was granted a commission on 9 May 1915 with the 3rd Essex Reserve Battalion.
After Officer training he was posted to the 2nd Essex Battalion who were fighting in France and Belgium. He was wounded at least once during his service which was during a difficult period in the trenches.
On 1 July 1916 Waterhouse led his men from C Company over the top on the first day of the Battle of the Somme. By the end of the day the 2nd Essex lost 22 Officers and 400 men. One of the Officers was Waterhouse whose body was never found or identified.
During his time in the Essex Regiment , Waterhouse whiled away some of the hors by writing poetry based on his experiences . Fortunately some of his poems survived and after the war were published in a small volume called Rail-Head and other poems.
One of his best known poems is Casualty Clearing Station which was written in 1916 after his short stay in one of the stations.
Casualty Clearing Station
A bowl of daffodils,
A crimson-quilted bed,
Sheets and pillows white as snow—
White and gold and red—
And sisters moving to and fro,
With soft and silent tread.
So all my spirit fills
With pleasure infinite,
And all the feathered wings of rest
Seem flocking from the radiant West
To bear we thro' the night.
See, how they close me in,
They, and the sisters' arms.
One eye is closed, the other lid
Is watching how my spirit slid
Toward some red-roofed farms,
And having crept beneath them slept
Secure from war's alarms.