Guide to use of Machine Guns in the Great War
At the start of the Great War every battalion was issued with two machine guns, usually the Vickers.
These guns were manned by a team of up to six men with a Sergeant or Corporal in charge of each gun.
Duties of the crew included siting, firing, cooling, transporting ammunition etc .
The guns were very heavy and so tended to be well sited during the hours of darkness either in the front line or often just behind.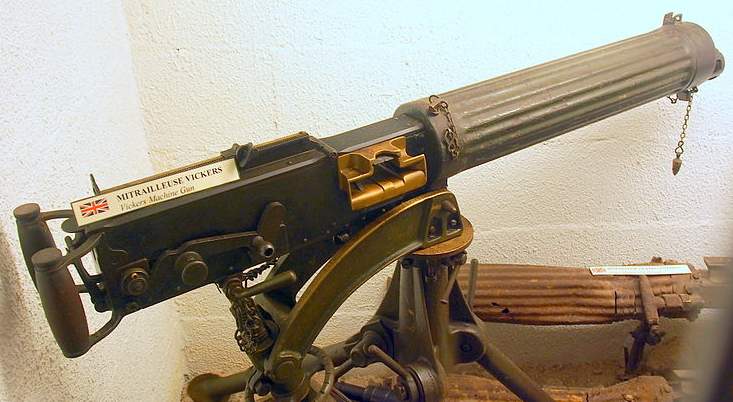 Photo of WW1 Vickers Gun suppplied by Alf Van Been.
The crew had great kudos within the battalion which they earned as machine guns were amongst the most eagerly sought targets by enemy artillery and snipers which resulted in a great many casualties.
As the war progressed and more guns became available additional guns were issued to each Battalion.
Battlefield analysis showed that some battalions used machine guns to great effect and others less so.
To improve the effectiveness a Machine Gun Corps was formed to standardise equipment and training and improve the tactical use although their companies were still attached to battalions.
To soften the loss to battalions the lighter, more portable Lewis Machine Guns were issued to battalions to be used by their men under their control.
In late 1918 such was their important that Machine Gun Battalions were formed