Guide to Prisoners of War (POW) in the Great War
Tracing detailed records for prisoners of war can prove quite difficult and require a little luck but getting basic details should prove a little easier in most cases.
Details of life in a German POW camp on this website can be visited by clicking here.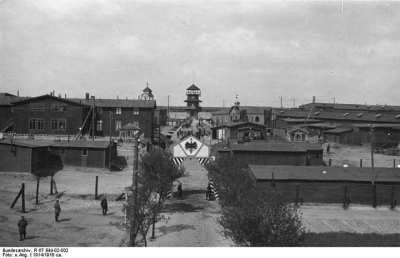 Crossen Prisoner of War Camp Germany in 1914
Both sides had signed up to the Geneva Convention which specified some basic conditions which prisoners should enjoy.
Checks on the compliance to the convention in these camps were made by the German Red Cross and from 1914 to 1917 by the American Embassy and then from 1917 to 1918 by the Dutch Embassy.
The country holding the prisoners were responsible for record keeping so records in relation to British prisoners of war will be held by their captors and of course written in the captors language ie German, Turkish, Arabic etc.
International Red Cross
Fortunately the International Red Cross have taken control of the records and have stored them in their archives in Switzerland so that most of them have survived.
The records have recently been digitalised and the indexes are now available to search online.
Click here for the International Red Cross Site
Commonwealth War Graves
Details of prisoners who died in captivity are included in the records held by the Commonwealth War Graves Commission.
Click here for the CWGC site
National Archives
World War One soldiers records are held at the National Archives, some of which can be downloaded.
The records include the service records which will detail time spent as a POW.
Sadly many of these records were destroyed in 1940 by enemy action but some still remain accessible.
Medal and pension records that are available may well reflect time spent as a POW.
These records are also available on Ancestry and to a lesser extent on find my past which are both subscription services.
Cox and Co Enquiry Office
In 1914 Cox and Co were longstanding military agents based at Charing Cross in London. The firm represented many Regiments in the UK.
Once prisoners started being taken the firm started a register to record those officers who were taken and maintained an enquiry office open daily to deal with enquiries from people whose relatives were listed as taken prisoner or missing.
Only officers were recorded in this list.
In 1919 this list was published as a List of British Officers taken prisoner in the various theatres of war between August 1914 and November 1918.
The original book is quite rare but modern reprints are available and the list had been digitalised on all of the major subscription services such as Ancestry and Find my past.
Local Newspapers
This is one area that can be productive.
Local newspapers regularly carried official lists and small personal articles such as the below taken from the Chelmsford Chronicle.
27 August 1915 - Reported in the official list of prisoners received from the German Government; Lance Corporal F Crozier and Pt W H Ryan ( Essex Regiment)
28 January 1916 - Pt Fred Parr, a prisoner of war at Doberitz, writing to his parents, Mr and Mrs James Parr of Sible Hedingham says the Christmas Pudding sent by the Congregational Church, Castle Hedingham was duly received.
The British Newspaper Archive has a great range of newspapers which can be accessed by subscription or in many cases free via a library.
Books
There are a number of books that were written by prisoners about their experiences after the war and a few by members of the Red Cross responsible for inspecting the camps.
They are unlikely to name your relative but they will give you a good idea as to the life that they would have known as a POW.
These can be traced by a google search.