Martello Towers
During the Napoleonic Wars with France the eastern coast of England was considered under threat of invasion by France so defensive strong points were erected by the Royal Engineers at key points of the coastline.
These were erected mainly on the Northern Essex coast as the Central coastal area was marshy with many inlets and not suitable for landings while the southern part was protected by forts on the Thames.
One of the favourite buildings was the martello tower which were erected all along the east coast with eleven on the Essex coastline.
Towers were erected at St Osyth Stone, Beacon Hill St Osyth, St Osyth Beach, East ness Great Clacton, Clacton Wash, Clacton Cliffs, Holland Haven, Holland Marsh, Battery Point Frinton on Sea, Walton on the Naze Cliffs and Walton on the Naze backwaters.
The towers has a circular design to give good defence and have no blind spots. They were mounted with three cannon and contained living quarters, armoury, heating chamber and sufficient supplies of food, water and arms to resist an attack for lengthy periods.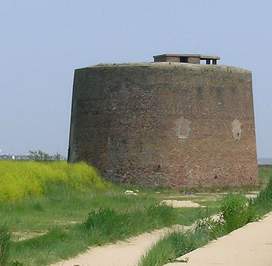 Photo courtesy of Steve Muster
In times of lower tension the towers were garrisoned by a enough men to provide a 24 hour lookout with the reserve in barracks inland allowing the ability to quickly garrison the towers in the event of a French threat being sighted.
The towers would be manned by both artillery to operate the three gun battery and infantry to use muskets and rifles for closer action fighting.
Many regiments were stationed at Weeley Barracks to both garrison the Martello towers and provide an immediate resistance should the French invade but there is no record of either Essex Regiment(44thEast Essex and 56th West Essex) being stationed there.
The East Essex Militia certainly served at Weeley and no doubt manned the towers in peace time.
Essex and Suffolk surnames have some interesting material on Weeley Camp. Click here to visit this site.
A posting to a martello tower was very unpopular as many were in marshy areas which were associated with diseases.
By the time that the Towers were erected the crushing victory at Trafalgar had reduced the likelihood of invasion and so reduced their importance in national defence.
In the First World War some of the towers were taken back into defensive service as sites for airship/plane lookouts and as a base for the 8th Essex(Cyclists) battalion who were responsible for defence of the coast.
A few were even pressed into service during World War Two.
Visit the Towers
Six of the towers remain and two are open to the public.
Jaywick Tower is run as an arts centre but is open for visits. Click here for details
St Osyth Tower at Point Clear is an aviation museum. Click here for details.
Towers at the Parade, Walton on the Naze, Marine Parade, Hastings Avenue and the Sea Wall, Clacton on Sea can be seen from the outside but are not open to the public.