VAD Uniform
At first Red Cross VAD members wore their own clothes with an armlet worn on the left arm to denote their membership of the VAD. St John Ambulance members wore their existing St John uniform.
At the declaration of war it was decided that all VAD members would wear uniform although VAD members were required to pay for the uniforms.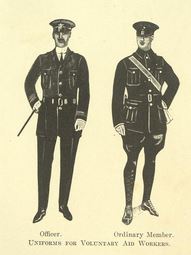 Picture from a history of VAD by Thekla Bowser
Members were free to wear the uniform of their organisation so Red Cross members wore a blue, white and red uniform and St John members wore their black. white and grey uniform.
In Essex the vast majority of VAD members were Red Cross which meant that most would wear Blue.
Nurses
Picture from a history of VAD by Thekla Bowser
Nurses were required to wear hats but there was no specific design so most wore a small white nursing hat similar to those worn by trained nurses.
Following disquiet from trained nurses these hats began to have a red cross shown and in 1915 a new hat was adopted for all VAD Nurses which was essentially a white linen piece tied at the back of the head.
Nurses also wore a white apron which had a red cross on the centre and were tied to the rear.
As the war moved on VAD nurses became more engaged in mainstream nursing which coupled with shortages of material and the need for cleanliness sometimes led to VAD nurses using items of uniform that did not totally comply with the rules of the day. This is especially true of aprons which often were plain in the later days of the war.
Nurses uniform was coloured blue while commandants wore a similar uniform but coloured red.